Tuesday, May 26, 2009
On My Third Month And The People Involved
The 16th marked the third month since I've left the shores of city-state. I know God has been very lenient and fair towards me. He gave me a small group of friends here to take good care of me. When I lament about domestic students, he proved me wrong by introducing me to both Matt and Mena, who has constantly taught me about the history of this ancient land and its people, the jargon of its politics and youth, the importance of Fitness First and also the popularity and excitement of Eurovision. In return, I exchanged information of my experience in foreign lands (which mind you has made Matt very psyched to travel across the globe), Singapore's 24 hour eateries (bite that Mena!) and our array of foods available in our cinema i.e a mix of sweet and salty popcorn, long hot dogs and cheese nachos which Australia has chosen to deprive its citizens of. hehe!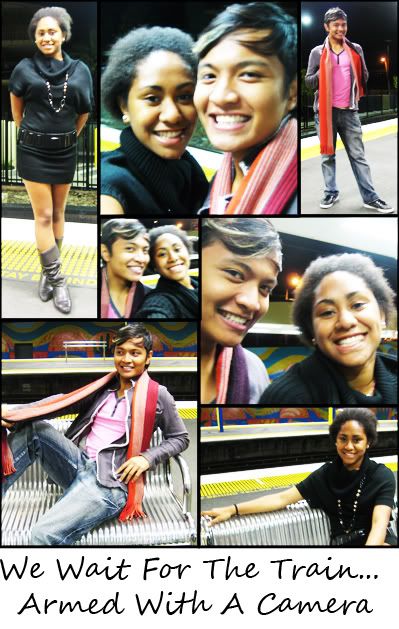 I shall not forget the existence of Fad and Sheifa who never fails to make me feel so warm in their presence. It is interesting if you study this loving couple and how they complement each other. Sheifa is the zany, wacky girl who is so creative and she makes an effort to make you feel so comfortable that even Mak Ciks want to take out their tudung and join the club. Hehe. Ok I exaggerate but imagine her great personality with me. And there is my loving brother Fad who is always putting others before himself. Though he is more subdued when compared to his partner, their joint forces can leave you smiling the whole day. Such an ideal couple.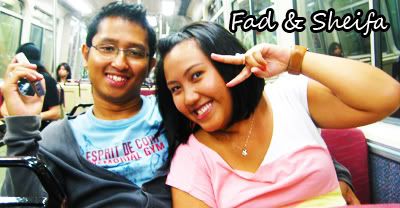 Another marquee couple shall not be left unnoticed. Farhana and Matt. Words choose to escape me when I am to describe about these lovebirds. For them, to witness their love story unfolding, one has to take a sneak peek in the kitchen. And its a beautiful sight. Like the dishes they cooked, it is an interesting and exquisite blend of both the east and west (that is the west too is pretty much east since residing in Bandung has given him prior knowledge of the east). I simply enjoy their bickers in the kitchen and the variety of dishes that they manage to conjure up together. I mean no harm, just admiration for a couple who amidst differences have found a similarity - their undying love for each other.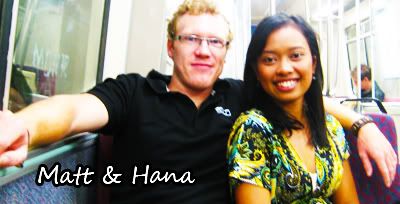 Enough of mushy love stories in this foreign land. Let me just tell you about an adventurous trip to the city, which left us standing infront of an old church with the most heavenly of words. "PANCAKE MANOR". Mena is such a dear to have introduced to me and Naddy this beautiful place which does not only offer you a palatable array of pancakes, it manages to give you an ambience like no other. The interior design was ancient. I felt transported to an old tavern in the middle ages. Well I did not pay much attention to it as soon as the smell of my three-stacked pancakes was too overpowering to be ignored. It was begging for me to consume it as soon as possible. For the next few minutes, the three of us gorged down our pancakes and no conversation was heard. Only exhanges of winks, accompanied with the occasional sounds of satisfaction (aaahh... ooohhhh) brokethe melancholic silence between us.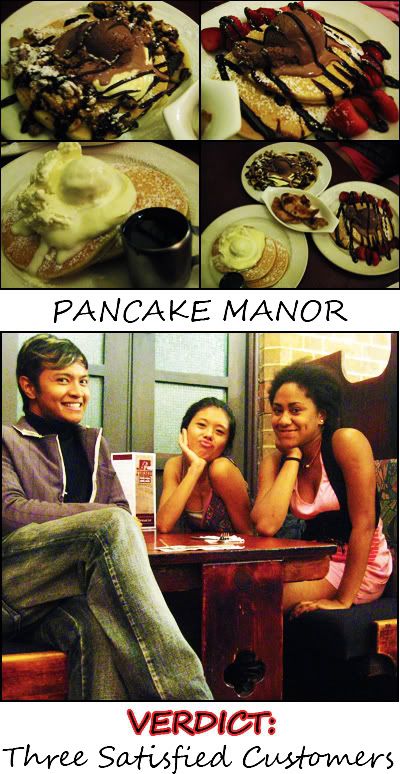 Well nothing much has happened since. Just shuttling to and fro my house and school. That is what it should be. Financial constraints has deprived the shopping centre next door of my presence. Winter is coming soon and it is welcomed with a new season of fashion. I can only oogle from the outside. I feel like that little girl, singing the song, "How much is the doggie in the window... *woof* *woof*".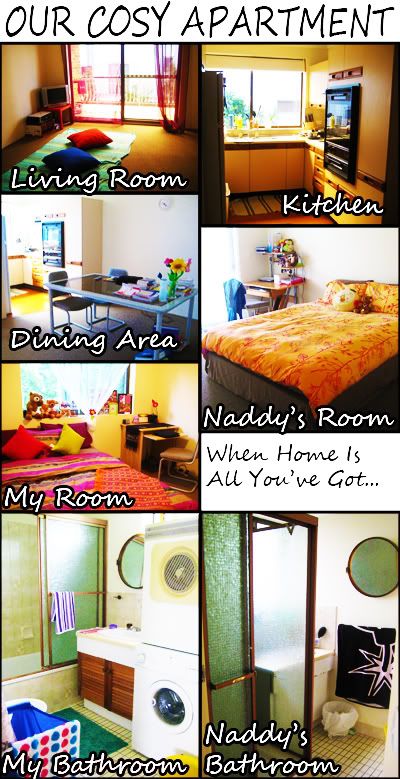 Mimin's Currently:
Trying So Hard To Get My Essays Done. After tomorrow 2 more to go!
Mimin's Missing:
'Soppian', Fitrah.
Mimin's Yearning For:
To Have My Besties Around.
| 5/26/2009 10:13:00 AM |
---
Friday, May 8, 2009
On Birthday Wishes And Healthy Consumptions
Well, I've yet to update about my ordinary birthday. Well maybe not so ordinary. Nadya and Zhafran welcomed the strike of midnight with the traditional birthday song. Soon after not willing to be overshadowed, my darling family members gave me their rendition of the birthday song which was as equally beautiful, albeit off tune and unharmonize. But there is no denying, even after heartfelt messages from my besties and close friends, I had to come face to face with my cold bed and dreading moments of haunting thoughts. These thoughts, are undying. The memory of past experiences serves as reminder to why celebrations should never be commemorated without the warmth of the people you love. *screeching sound* I am not about to make you people cry. So I shall stop.

My morning was 'rudely' greeted by the sound of my bell. I struggled to open my door, only to find a smiling Papua New Guinean girl, with a hot chocolate drink on one hand and a cupcake on the other. "Happy birthday Amin!!! I told you I was going to come and see you in the morning and wish you a happy birthday!". It was my bff, Mena. Such happiness!


Stares at the four present givers: "It is unacceptable for you to deliver me a monkey balloon and not have me scream at you! I am a flamingo! And what do u mean HOW old! I am always twenty-one."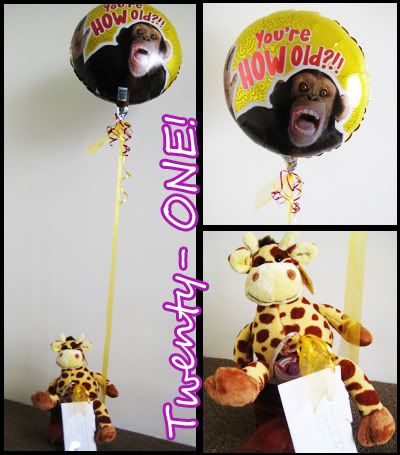 On a lighter note... I am lighter! Haha! I have been hitting the gym frequently, running 10km on the treadmill per visit. I have yet to try yoga! I am glad the gym is just practically next door. It is a great place to destress. And American Idol! Lesson 101 on 'budget international student stay in Australia', when you don't have cable always visit the gym and watch it there while you run. It is great sometimes I tell you! If you were to see a malay guy flailing his arms about and jiving on the treadmill, please give him some face and join him! Haha! Well you do the silliest things sometimes, especially since you know Australia is just too big for anyone to recognise you. But again, you are talking about the citizens who is so fascinated with reality tv it is scary.

It was Makan Day at UQ the other day. The UQ Singaporean Student's Society in conjuction with the student societies of Malaysia, Brunei and Thailand conducted the event. An array of dishes were sold. From Nasi Briyani, Nasi Katok Brunei to jemput-jemput pisang and ICE KACANG. It was heavenly. :) And it was better when you have good company. I felt like an ambassador explaining to Mena what the different dishes were. She was all thumbs-up and I was even patriotic to the cause. Haha!

My ever-so-knowledgeable-friend Matthew, prompted me that we are closing to the end of the semester. That explains why I have not had the time to update. My efforts are channeled to my argumentative essays and the pile of books that continue to bury me deep! But I am gaining alot of knowledge! It is fun just minus the application and the grueling time spent on making the essay sound credible.

I bet some of you must have had heard the news. My family is due to visit me this June! Oh I can't wait to meet my parents and siblings. I mean for the first time I genuinely miss my family... And soon after, I am to prepare for the arrival of my bestie and sisters! How cool is that! I cannot wait!

Now... Can I please start a malay dance group in Brissy! Can people please be interested in their roots now! Argh... I am dying here man! Please... *sits begging*

Mimin's Currently:
Taking A Break From Essays. 3 more to go!

Mimin's Missing:
Ahoyu Takeru. Rizcarl Farfalla. Azlyana Aziz. Kingone. Robert JD. Kui Feng. Syazwan. Li Ming. Adik Taufeeq. Allan. Ezadd Hieqal. Rasidin Rasem. Muhd Hady.

Mimin's Yearning For:
A heater


And Glimpse Into My Room ...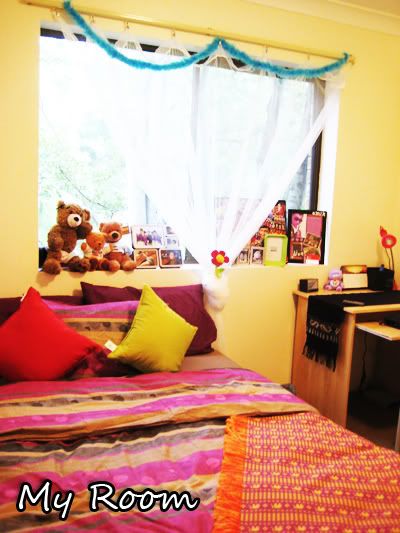 | 5/08/2009 09:50:00 PM |
---
Monday, April 20, 2009
On The Future And Mummy
Whenever I am in my room all alone, just looking outside my big window I cannot help but reminisce. Around this time a year ago, I was in my bunk at Maju Camp 6 SIR, all alone looking outside my dusty window wondering what I will be doing after National Service. It is surreal. I cannot seem to stop reiterating the fact that being in Australia is just not a dream I was thinking about anymore, it is real. I am here. Far away in fact. I am away from my the family I love most, the cousins I adore, my loyal friends and I am so distant from the one thing I am passionate about most - dance.

Many would want to be in my place right now. I wish I can trade every second I am here for a second to be up on stage again. But I know this is for the best. Hell, I am learning about politics and human rights - the knowledge I yearn most to acquire. I am enlightened... If only I can have the best of both worlds. Personally, I think I will. One fine day, I will do my research on dance and how we can integrate the performing arts together with human rights and create a phenomenon. Oh wait... maybe that has been done before! Come on Amin something more original next time!

Two days ago, friends surprised me with a gift. Something I was hoping for. A Country Road Bag.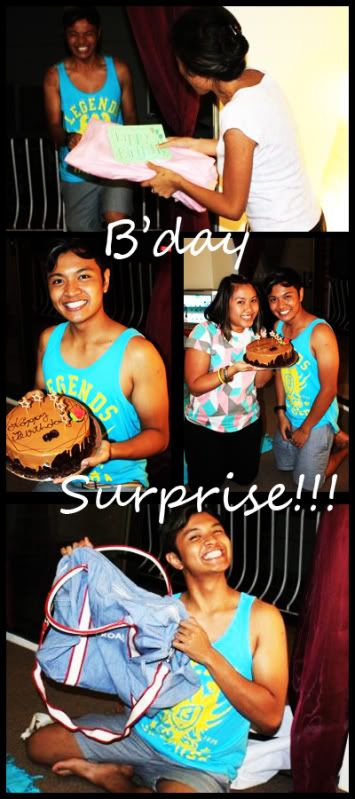 But I am not about to ask for anything more... Kind of lost my spirit for birthdays. Two years ago, I celebrated my birth in the jungles of Taiwan. Last year, I was alone in my bunk having a rest after a 12 hour duty at Sembawang Wharf. A Subway sandwich was my birthday cake and thankfully I brought a candle and sang myself a birthday song, made a wish, heartily consume the sandwich and went to sleep. I am not about to ask anyone to patronize me but 22nd of April is just another day to me. Indeed I will be a year older...

I feel that I have accomplished so much in the past 22 years of life but one department continues to file reports of my failures. The department of love just doesn't seem to offer me long time happiness. Well I shall not elaborate any further... People get nausea just listening about my many attempts to find true love. Some even just choose to shut themself (herself) away from me.

I want my mummy. I really miss her alot. Everytime I talk about her to my friends, tear ducts choose to fail me and lose control. Flood gates open and even the sun choose of all days not to evaporate my rivers fast enough to hide the stains on my oh so angelic face. I miss Mdm Normadiah Haron's cooking, especially her tauco tofu and Ayam Lemak Cili Padi. I miss her nursing me back to health and her morning wake up calls for morning prayers. I miss her very much. I wish she was here.

You know, I believe I am living her dream. My mum is an inspiration to me and as well to many who knows her. She have always wanted to get a degree. I remember that day when we were at the Australian Education Fair, as I was busy looking at the many Australian Institutions my mum happened to chance upon brochures and information about a Nursing Degree. I saw that delight in her eyes and how hopeful she was to know more about it. I reckoned if she ever had an opportunity, she would have wanted to take the opportunity to upgrade herself. There were many times before, when she wanted to get a diploma. She never got a chance to, I guess her maternal responsibility took precedence over her ambitions. If only I had all the money in the world, I would have liked to see that degree in the hands of my mum. So I am doing this for her too.

Well there are some things my mum can be proud of. I have been very neat, making my bed each morning, washing my own dishes and often cooking my own meals. hehehe. I love you Mummy dearest.

Mimin's Currently:
Finishing his Briefing Paper on Violence Against Women

Mimin's Praying For:
His Sister NurFarah Liyana to better understand the ways of the world.

Mimin's Yearning For:
Solace

Mimin's Missing:
Mummy Dearest.
EllyqaQistina, AyuSayuBayu,Izzah Hafiya,Iffah Izzati,NurAmalinaSamin,Izwan,Busu



| 4/20/2009 08:59:00 PM |
---
Tuesday, April 14, 2009
On Bearded Fools & High Sex Drives
In an article taken off MX (Australia's version of Singapore's Today paper), it speaks about a Norwegian Man who faces a heavy fine and a driving ban after police caught him having sex with his girlfriend while speeding on the motorway. And it is said that the car was veering from one side to the other because the woman was sitting on the man's lap while he was driving.

Haha! I had a good laugh alone at the back of the bus while reading this. Talking about a 'high sex drive'! Such a quirky world.

And I am here to lament about blokes who should not be given the right to roam free in this world. There is this one bloke who seeks pleasure in correcting the mistakes of the other people without looking at his own major fault - his brain. Fancy coming all the way to a foreign land to get a degree but not taking an ounce of reason to base his judgement on. I am in particular perturbed by his view on how he view woman only as a source of fun and not for proper companionship. Well I am may be blowing all this out of proportion but it is all in the name of informing the people I care about a dunce i have
grown to detest.

I shall take to calling him, Bearded Fool. Well Bearded fool, just know that your character is definitely unbecoming of a person whose god given gift was to understand and practice reason. In truth, your brain must be working in a warped kinda way that you cannot see that no one is in favour of your puerile behaviour and views on life.

Before you preach to me about how I should address a person, let me just urge you to take a look at yourself. Obviously you have not been looking at yourself in the mirror sir because food scraps are stuck to your disgusting looking beard. Don't you dare teach me about etiquette when you have not been taking careof your hygiene. So spare me your thoughts and views on others when you don't practice what you preach.

Oh, Bearded Fool, I think you are messing with the wrong diva... and let me reiterate what I say most to people who waste my time, 'Fools like you should be shot! We should put you in a museum of fools who are a menace to society!'

Huff.. Puff... Cool down Amin...

On a lighter and brighter note. I cut my hair. More later on the confessions of a shopaholic - once I am back from harbourtown.


| 4/14/2009 02:28:00 PM |
---
Sunday, April 12, 2009
On SATC and Singlehood
Sex And The City. What more can I say about the comedy drama that makes me squirm uncomfortably and at the same time make me laugh uncontrollably. My former reaction, I believe, is the typical response of most conservatives whose notion of sex is taboo. My friends in Australia are surprised by these fascination of mind which was a topic of yesteryear. My only answer, "Well, where else can I get to watch SATC without having it heavily censorted. It was banned in Singapore for the longest time mind you!" And you will get the occassionally, "OMG! Really. You must be kidding. How can anyone be deprived of watching SATC!"

As much as I agree with them, I feel that the ban is a definite must for a very 'Singaporean' society. Till today sex is a taboo topic. Even to someone like me who is pretty open and up to date of the many different trends in the developed world, the sight of sex on national television is a no-no. I mean in truth, it is great education. It educates one about , other than sex, the many lessons of marriage, companionship, life of 4 singles in New York City and most importantly friendship.

Here in Australia, I am determined to watch films that are banned in Singapore. Other than Sex And The City, a series of queer movies and artistic films seems to fill my list of the 'Must-Watch'. But I wish I had someone special to watch it with. When watching such movies, I feel like a young boy all over again. I watch them with much intensity and interest my eyes pop out. And fanaticism welcomes tears and laughter in that little room of mine. But when such sounds are not given the acknowlegment of someone who can appreciates it then loneliness takes its rightful place. And frankly loneliness has made a home at the corner of my room for awhile now.

I guess couples don't see what I see... They get too busy getting lost in each other's eyes and embrace. Well in truth, what we singles see, is just too obscure.

Mimin's Missing:
Hafyz, Bhas & Naeem.

Mimin's Yearning:
To Be Embraced


| 4/12/2009 08:03:00 PM |
---
Friday, April 10, 2009
On Australian Updates & Women Power
Happy Easter guys! Finally, a well deserved break. My refusal to skip any of my tutorials and lectures just go to show my utmost dedication to education! Let me just say that I have broken my own personal record. 100 % attendance! It ss a first I tell you. My polytechnic mates will beg to differ if I said the same thing during my Poly days. It was so uncool to go for classes and cooler to be at 'Techno' gossiping.

I am unsure of the drive that gives me such a positive attitude towards school. It must be my studies in political science. I am in love with it! I finally said it! I love studying about the many ideologies of the world and having to analyse wars between Israel and Palestine, Rwanda Genocides and the adverse effects of colonialism in the world. It is a dream come true... All my life my interest in non-fiction books left me unanswered to why there must be so much insecurities within own communities... why racism exist... why religions with the same root and ideals have to fight... why the oppression of women in other countries...

And now with answers within reach, I thank God for being Singaporean... I thank Allah for being made Muslim living in Southeast Asia and Singapore. I thank Allah for allowing my Mother to be my greatest influence. I thank Allah for allowing all my girls to behave the way they are today without having to go through the oppression of our Muslim sisters in other parts of the world. I thank Allah for allowing the women in my life the right and ability to sign their marriage certificates and find their own rightful partners. We are so sheltered from the atrocities of the world.

I learn the communities which are culturally paternalistic devoid women of their rightful existence...

People will say I am a male feminist and truthfully its the rarest kind of male species. But I will argue that I am neither a feminist nor in support of a paternalistic regime. I will call myself a balanced human being. I seek balance. I seek equality amongst all men and women. I seek for women to speak vocally like how all men are given the rights to. From here I urge all of the special women in my life, to reflect on their lives and think of their sisters in other parts of the world who are forced into prostitution, whose genitals are mutilated, whose voice could never be heard outside the house, whose main role is only to serve husbands desire and worse of all depriving women of the education they truly deserve. Go and learn about their plight and spread the word about the injustice. Reflect on your ability to be free and pity those who are not given the same privilege.

Now to my dancers, I hope you understand why most of my choreography reflects the strength of women. Because I hope to see you girls being the strong-willed women I envision this world to have. I am proud that in Singapore, women play a major role in society. We even have muslim women in leading roles in our parliament, governmental and private sectors. Instead of complaining of what we don't have, find happiness in what we do have...

Now, with the study of ideologies such as liberalism, socialism, conservatism and religious fundamentalism, one will question the need for so many ideologies to govern the reason of mankind. Well after learning the effects ideologies may have on individual, societies and nations I am glad that at least Singapore has adopted a style of its own encompassing the needs of various ethnic groups and meeting their demands the best way possible.

I know many are waiting for the outcome of my house. Well, me and Nadya have pretty much settled down. Bought all the things we need for the apartment. I am a gentleman, so I sacrificed my inate desire for the masterbedroom to Nadya. Haha. Well I made the best of what I have. With all the teddy bears, gifts and photos its no wonder my room looks like one a teenage girl's. Well I love my cosy corner. And I made it colourful! A dash of yellow, sprinkles of orange and a whole lot fushcia and you get a masterpiece!

Well I made plenty of friends here. But sad to say, they are younger than me. Here in Aussie, straight after high school you either go to University or TAFE colleges. So that explains why universities in Australia have a more youthful ambience than in Singapore. But it is always nice to hear when your friends say, "Amin! You don't look a day older than 18!" And my obvious answer would be, "Yeah I know right! We Asians have such glowing skin!" (Rolls On Floor Laughing)

After a month a so, you will get the jargon and you tend to speak like them. Haha! Because I realise they understand you better when you speak like them and it helps alot I tell you. Just some interesting facts:

When you say accidentally bumped unto someone, you will naturally say you are sorry. And in Singapore we would either reply, 'Its ok' or even stare at someone for being so blind. Here, the common reply will be, 'Your alright...". And mind you, they are not asking whether YOU are okay, but its a way of saying 'Its Okay". I had to learn this the hard way, when I accidentally bump unto a man, and he says 'Your Alright' and i replied 'Yes I am. Thank you for asking.' And the man laughed. Haha! I feel such a bumpkin.

Well my new bff here is Mena Meladina. She is a fun girl to hang out with. She is from PNG, Papua New Guinea but an Australian citizen. She is awlays helping me understand the different terms used here in and at times makes me wonder what was I doingn when I was her age. Gosh I feel so old. Due my indenial state, I am only 21. I shall not accept anyone saying I am above 21 years of age because in Australia, I am always young! Haha!

Well I am off to Gold Coast, Movie World.

Mimin Misses:
My Besties, Cousins, ZASKA, SNT, DIAN Dancers.

Mimin Demands:
For a well-deserved break

Mimin Wishes:
To Start On His Essays


| 4/10/2009 11:31:00 PM |
---
Sunday, March 8, 2009
On Lectures & Barbies
I wish my brain is a sponge.

My first week of lectures albeit insightful was, Ibelieve, an introduction to prolong headaches and heartaches. I've decided to take a double major in Media Studies as well as Peace & Conflict Studies (International Relations). This decision of mine will see me through multiple quizzez, annoted bibliogrpahies, weekly discussions and worse of all essays. Now when was the last time I attempted an essay? Obviously 3 bloody years back! God please give me strength and a genius's brain.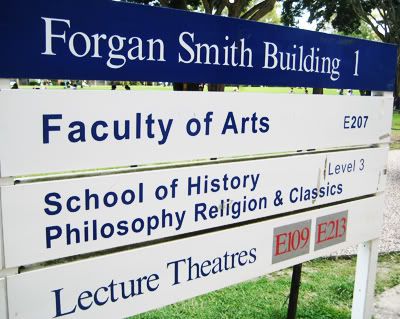 One of my modules 'Introduction To Political Analysis' would have to be my favourite subject thus far. We are given case studies on the many genocides in Africa as well as historical facts of the both World Wars. I am very drawn to this subject because of my interest in the humanitarian aids and efforts that goes on in the continent.

Loneliness is a norm during this adaptation phase. Sometimes I wish there were people like Noraini to offer a hand of friendship like how she once did during my orientation at Temasek Polytechnic 6 years ago. I think I have taken for granted that every start of my journey was going to be smooth sailing since I 'believe' I know practically every body on the island. Now I am on another island and none of my Singaporean friends are in the same course as me. Gosh, I feel so lonely. These domestic students have barriers that hinders any opportunity for me to work my charm. Haha! And when I do manage to get an introduction through we end with an awkward silence and the flipping of notes-and-wait-for-lessons- to-end a.s.ap. This really sucks. I can't wait for tutorials to begin. I hope to get some true friends to make this journey even more fulfilling.

I had some time before the start of my lecture. So I sauntered around school and decided to give you a peek at how my school looks like. According to many, my school seems to look more like a University than any of the University around Queensland. I should be proud.


There is saying, 'When In Rome, Do What The Romans Do'... and we had a Barbie Evening. Barbequeing during the weekends is a norm in this island. We had great fun and delicious food. Have to thank Hana and Matt for the idea and for buying the set. Also for all those who took the challenge of preparing the charcoal, namely moi and mes frères, Fad & Matt as well as our home-econs teacher Ms Nadya. Of course not forgetting my makan-kaki Sheifztuna!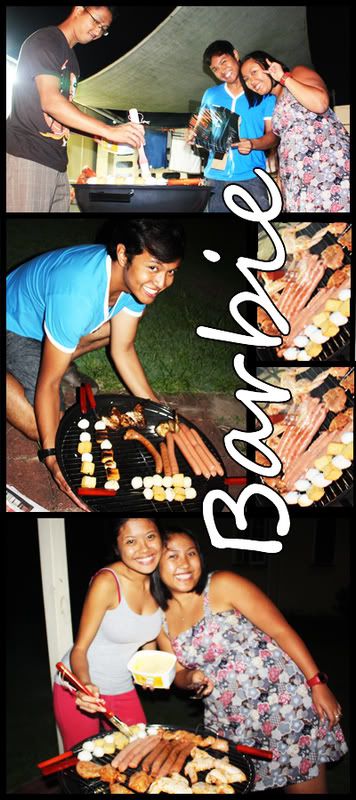 Mimin's Praying:
To understand lectures
Mimin's Gearing:
To go to the gym
Mimin's Missing:
Mummy.
| 3/08/2009 10:27:00 PM |
---